Decentralization with Liquid Democracy, or Diversity and Expertise in Governance
Joint work with Adam Berinsky, Daniel Halpern, Joe Halpern, Ali Jadbabaie, Elchanan Mossel and Ariel Procaccia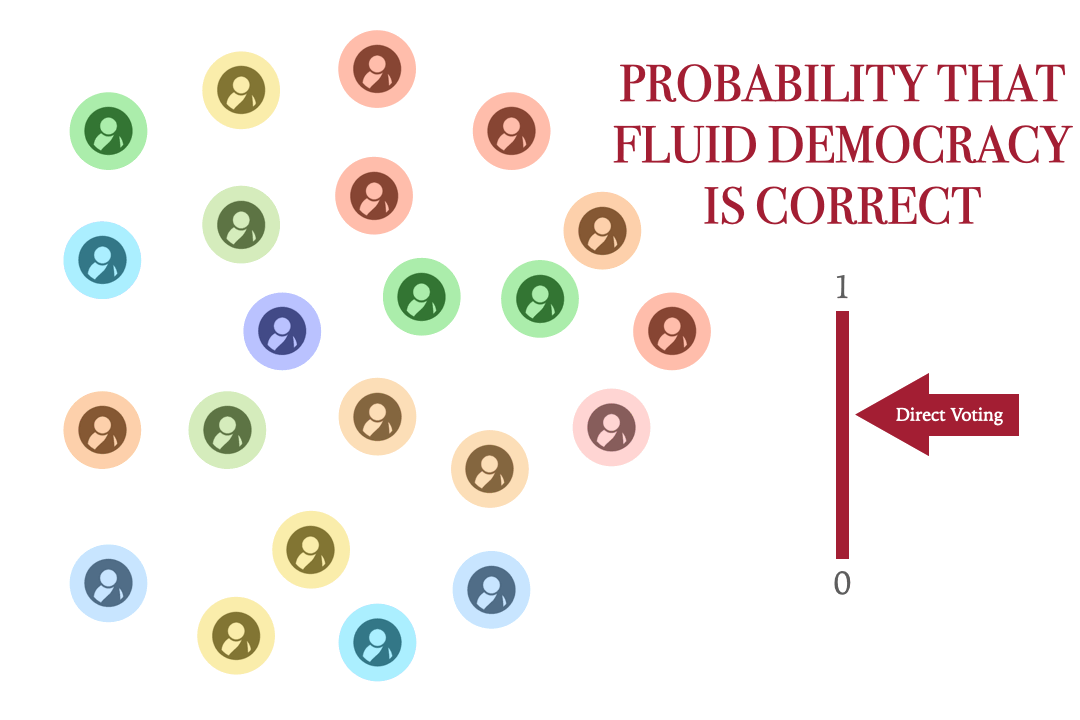 How could we design decentralized and participatory governance processes? Mathematicians have been interested in this question since (at least) the late 18th century, developing theoretical frameworks to benchmark different collective decision protocols. One framework assumes a correct outcome (a priori unknown) and searches aggregation rules that are most likely to find the correct outcome. Of course, this imperfect model does not pretend to be an exact model of reality. Instead, it purposes to formalize or challenge common intuitions.
Most prominently, Nicolas de Condorcet formalized mathematically, through this lens, Aristotle's profoundly democratic intuition according to which groups achieve better outcomes when more people participate under mild conditions. This result falls short when voters are not minimally informed about the decision at stake. Note, however, that this model neglects information voters have about one another: I know little about environmental science and may not be informed enough to know how a carbon tax bill should be drafted, but I may know people I would trust to represent me in shaping environmental regulations. And this information matters both epistemically (enhancing collective intelligence and leading to better outcomes) and procedurally (generating an intrinsically fair and legitimate process).
This interpersonal knowledge could be revealed through endogenous delegations: voters would decide between participating actively in governance or delegating (transitively) their decision to an agent they trust for that particular question. This procedure is called liquid democracy. My co-authors and I studied the mathematical conditions under which endogenous delegations help groups achieve better outcomes ( In Defense of Liquid Democracy). We further ran experiments with 12 groups and found striking alignment between our theory and our experiments (Liquid Democracy in Practice: An Empirical Analysis of its Epistemic Performance). Importantly, these results are for small, well-connected communities and non-political decisions.
These days, I am trying to answer the following questions: how are democratic principles (such as inclusion, equality, diversity and authorization) revealed through liquid democracy? How does it compare to the electoral alternatives? To other democratic innovations, such as sortition? In which context is each procedure most legitimate? (How to Open Democratic Representation?)
Work presented at the Equity and Access in Algorithms, Mechanisms, and Optimization, COMSOC Seminar, Reimagining Democracy Workshop, Workshop on Long Term Risks and Future Generations, Univeristy of Zurich, Harvard University, Massachusetts Institute of Technology, University of Groningen, Google X, Debating Europe, bluenove, Hypermind, Datascientest...